What a wonderful weekend!
I spent my saturday laying around with the fur-babies watching movies on Netflix and cuddling under blankets. It was a snowy day and I love just staring out the window as the snow gently falls around the house and I sit in my warm home cozy and content. Later in the afternoon I got ready and drove out toward my moms house to go shopping and meet up with the family for birthday celebrations! We met at Smokehouse BBQ, a local Kansas City chain specializing in smoked meat. :) mmmmm
I had fried mushrooms which were AMAZING and some smoked turkey and brisket. My nephew Collin was adorable. He tried bbq sauce for the first time...and HATED it. He just kept on crying as we fed him pieces of turkey without any sauce to help his mouth "cool down". He then sucked on lemons. Which is just about the funniest thing ever. He'll suck on the lemon and make the absolute worst sour face with his little cheeks puffing up, his eyes getting big and his little body doing shakes....and then he'll calm down, sit for a minute and go in for another bite! haha, the waitresses were even gathering around to watch him. :) After we ate we were going to go back to my moms house to visit with my sister, brother-in-law and grandma who were all staying there, but the storm started taking a turn for the worst so Spencer and I headed home. I wish we had gotten to go for a little bit, but I did get to see my nephew walk at the restaurant! He's been learning in the past few weeks! Such a big boy :)
When Spencer and I got home we got into comfy clothes, let the dogs play and started watching "The Tudors" on Netflix.
I am actually really enjoying it! I'd been meaning to watch it for a long time, but never gotten around to it. It's not the most fast-paced or the most exciting show out there, but I am intrigued by it. It's about the life of Henry VIII. It's filled with scandal, corruption, cheating spouses, death, destruction, love and LOTS of hanky-panky!

although....the actor who plays the famous king is quite the trade-up!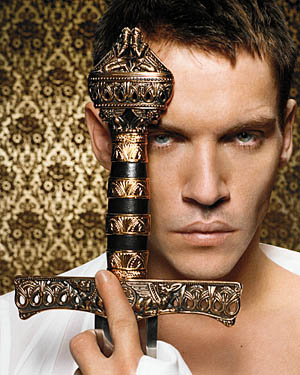 Saturday we spent the morning laying around in bed watching more Tudors. It was icing all morning again, but at around 3 we headed out to a friends birthday party at the go-kart track.
...now let me just say, I was NERVOUS! I have has an irrational fear of Go-Karts for a long time. It stems from my fear of bumper cars..... when I was little I was a terrible bumper car driver! I would just spin around in circles and then get stuck while people rammed into me! I hated it! So the idea of being in a Go-Kart with a bunch of boys driving around reckless and excited was a little intimidating....
But I went...I put on the hair-net followed by the helmet....I bundled up tight....and I drove a Go-Kart for the first time! It was wierd.....The smell of gas was overwhelming and the car bumped along like it was on a gravel road. Every few seconds a group of excited boys would careen by almost taking one another out....and I would slow down and let them pass :)
It was actually a lot of fun, and once I got the hang of how it handled I started going a little bit faster....and then a little bit more ...I faced my fear... I rode in the car and I actually beat someone's time!!!!
..... Yes...it was the 12 year old brother of the birthday boy...but still! I beat him!
All in all...a FABULOUS weekend. I just wish it wasn't over! ....hmmm wouldn't it be great to get snow days from work!?

♥
Jenni