Part of my program to get fit as a fiddle...where did that phrase come from!? ....is to eat 5 small meals a day, as opposed to 3 larger ones. I start out my day with either low-fat yogurt and granola or some egg beaters and tomato in a whole wheat tortilla. At about 10:00 I have a morning snack. Lunch at about 12:00 which is usually a small turkey sandwich or wrap with lots of lettuce avocado and tomatoe, another snack at 2:30 followed by a light dinner whenever I get home from work and working out.
I follow a fairly simple plan involving:
*
Packing all of my small meals each morning before work so i'm not tempted by the vending machine.
*
Taking a multivitamin every morning.
*
Refilling my 32 oz. water bottle at least 4 times a day .
*
Eating a sliver of avocado in either my sandwich or egg-beaters wrap to keep potassium levels up (I'm allergic to banana).
*
Eating lots of protein and limited amounts of carbs.
Some of my favorite snacks at the moment include....
Hidden Valley Ranch dip and veggies
I take a tub of non-fat sour cream dip and mix it up with the hidden valley ranch powder as a nice little dip for celery and zucchini. Its really quite tasty, and the crisp bite of it energizes me in the afternoons.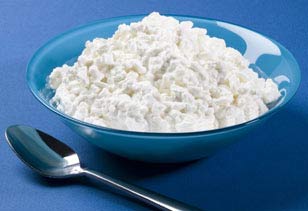 Cottage cheese
I know this stuff gets a bad rep and you either love it or hate it, but I personally think its a great little snack! (Although, I don't think I could ever eat a bowl that big!)
Fruit
I'm allergic to quite a few different fruits, but I love to much on grapes, pears, kiwis, apples, strawberries and blueberries. I also love clementine cuties. Those little oranges that come in the box and are little, easy to peel and sweet! I &hearts them
String cheese
A perfect little pre-portioned snack. Easy to grab and tasty to eat! I love pulling off tiny little strings of cheese to make it last longer! I usually snack on these at work. The puppies get jealous when I eat them at home because we have used string cheese as a training treat in the past.
What is your favorite snack? Do you have a great recipe that cuts the calories?
Tomorrow I will share my favorite recipe for lighter fare!
~ &hearts ~
Jenni