I have been so busy lately I haven't known what day it is! I finished up my 10 page paper and presentation for one of my two classes last thursday, and now i'm trying to finish up my other class 10 page paper and group presentation this week! I will be so glad when i'm done and can breath! ....and start throwing myself into the wedding plans! We did figure out one thing this weekend though...our wedding pattern! This pattern will be used in subtle ways throughout our wedding and tie into our invitations...The jury is still deciding... but we're thinking this might be it!
It's very subtle, and feels just right for us :)The more I look at it, the more I like it!
Our next big step is deciding music for the wedding, and it's quite hard! My cousin Victoria will be playing the violin and does her own compositions, so we can choose anything we want and she will play it! Even though there won't be lyrics, we still want to make sure the lyrics match the feel of the wedding so that when we listen to it later on we will remember the day and smile. So far the only song we have is from Failure, "The Nurse Who Loved Me". We aren't thinking of it for the ceremony, but we think it would be nice as background music as our guests are arriving. :)
On piano in the video, but it would be in strings instead.
On friday I went and got my hair done. I had an hour between dropping off Spencer at work and my appointment beginning and so I went to Barnes and Noble. I drank a Dark Cherry Mocha and sat in a big overstuffed chair reading some Bridal magazines...It was absolute heaven! While looking through the magazines I saw a cake that almost made me spill my coffee out of excitement! It has these brooches pinned onto bows, and I decided it would be a perfect way to make our 5 cakes have a cohesive look! Sooo now i'm on the hunt for vintage brooches!!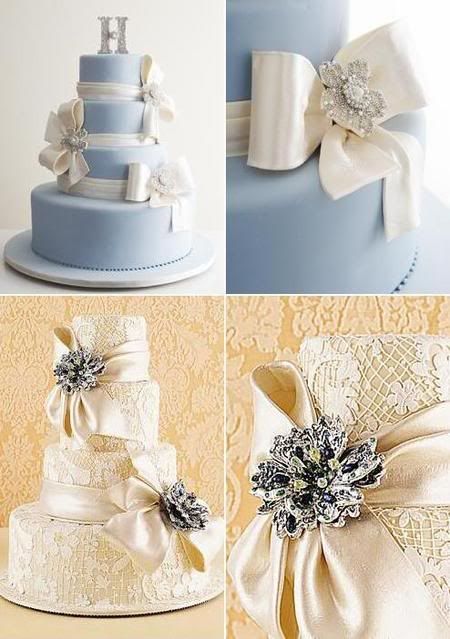 Beautiful! Right?!
Speaking of Barnes and Noble, and books...I ordered two new books today! I've been enjoying reading a chapter from a book each night before bed and today I noticed that I had gotten two $5 off coupons for Amazon through completing a survey so I used them to purchase two new books! I purchased the 5th book in the Percy Jackson series, and Chelsea Lately's "Are You There Vodka? It's My Chelsea"
I have heard her books are hilarious, and I can't wait to start reading it when arrives in the mail! I think it will be the perfect companion to an afternoon laying out on the chaise and tanning in the sun! Sadly, I haven't been able to go outside in awhile... It's been gross outside for the past 3 days! When it's not raining like cats and dogs, it's freezing cold! It's been affecting my motivation of getting to the gym, or eating healthy and it's making me just plain sleepy! I've slept until about 9:30 or 10 every day lately and i hate it..although, I guess staying up past midnight hasn't helped matters. Spencer says i'm quickly turning into his little night owl. ha!
For a random little bit of information, when I was at the gym this morning I watched The View. Dr. Phil was the guest and they were discussing the tendancy of men to cheat on their wives and wether there was a genetic disposition that would cause some men to cheat over others who don't have that trait. Dr. Phil's answer? YES! Some believe that if your ring finger is longer than your middle finger then you are more likely than others to step into bed with the next hot thing! Haha, Bet you all just looked at your fingers!!! (Spencer and I are both good. Middle fingers are much longer) :)
Last, but certainly not least...
I would like to give a little shout out to the best treat in the world..
Coconut M&M's are soooo good! Spencer surprised me with a package tonight when he got home from work and I was grinning ear to ear because they no longer say "Limited Edition!" YAY!!!! They are here to stay! And, I have to admit I love the sexy green M&M spokeslady and now she has her place to stay! She's the coconut M&M!
When in doubt, eat chocolate!
♥
Jenni