We had a fabulous Christmas with our family this year. We started out Christmas morning opening gifts from one another, and to our little furballs! Spencer got me a collection of things that Mia likes to steal and chew on! (to replace the ones that she has made "disappear")
Stay-Put Headbands with rubber grips. My FAVORITE for working out and Mia tears them up!
Burts Bees chapstick in 3 different scents! yeah...she eats chapstick like its chocolate cake...
No-Show socks for working out! Remember, we did call her "The Sock Monster" as a puppy!
Hairties! To Mia these are better than chew toys! He got me plain ones, rubber ones and these with rubber grips!




He also got me a great new wallet, $50 for us to go on a romantic dinner together
and a new light-up mirror for my vanity!
After we opened our gifts we headed to my moms house for lunch and present opening. We had a lot of fun, drank some mimosas and watched my nephew open the 8 different boxes containing his new Thomas the Train set. Seriously, he had a MOUNTAIN of toys! I did end up with a wonderful pair of comfy pants, slippers and a new bathrobe from Aerie! I LOVE them! And my grandma's usual gift of $$. I ended up hitting up Victorias Secret online and got myself some new workout pants and a pink tunic! (I can't wait for them to arrive!)
After my moms house we headed out to Spencer's families house for food, drinks, games and fun! We played a new games called "What's Yours Like" and it ensued in hours of laughter as things got a little dirty, and really hilarious! We ate a delicious dinner, and exchanged gifts. Spencer's parents got me two more sets of our plates from Crate and Barrel!!! We now have a total of 6 sets! I absolutely love them! They are thin, light-weight, durable and simple.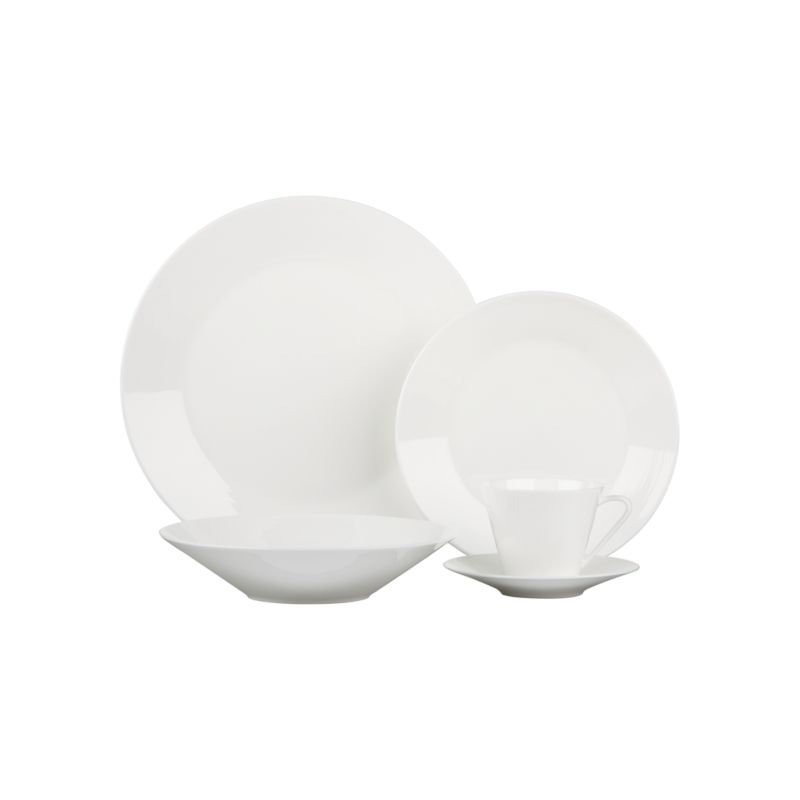 "The Claire" from Crate and Barrel. Pure white with a faint lined pattern on the edges. I

♥

them!!!
From my new sister and brother-in-law I got a new "professional" looking coffeemug from Starbucks. I had a brown one and LOVED it because it has such an amazing seal and never spills...sadly, it's become quite an eyesore because Spencer broke the handle off and the paint has chipped off of about 50% of the mug...sigh... Luckily, I was more than happy to throw it away and replace it with my new beautiful mug! It has a pretty inlaid wood grain strip around the base and on the handle, and the rest is stainless steel. Tres chic! They also got Spencer and I a joint gift! A custom cartoon of the two of us! My brother-in-law if you didn't know is quite the talented artist, and I just adore this cartoon of us! He even made the background on it green so it would look great in our backroom! Please excuse the photo quality...the battery on my good camera is dead so I had to use my little camera which has no flash. They look REALLY good in person!
On the wall...sorry for it being so dark!
Close up of the graphic. I love how Mia is on top of my head haha






Overall it was a REALLY fantastic Christmas! We had a lot of fun, we got to spend time with our awesome family and the girls got so many toys they slept through the whole night and into the next morning without any problems! A major plus in our home!!! Tomorrow my dad is coming over to our house to celebrate and were going to eat some snacks (spinach artichoke dip, cheese and crackers, cinnamon fudge and chocolate chip cookies! YUM!) and play some games. I can't wait! Hope everyone else is having a fabulous time! Happy Holidays!!!
♥
Jenni