♥
Holy Moly ladies! I have seriously let myself go... I just kept saying, oh i'll start next week when things slow down... well, I am 2 days in on getting back to working out and I am SORE! I hurt all over my entire body! It hurts to sit, to bend my arms, to walk... soon I will feel better, but DANG! I will be going again tomorrow too! (Although, I REALLY wish there were a 24 hour fitness here in Arkansas where I am because I am NOT a fan of the gym here...)
I hope to look like this by summer... we'll see!
♥
Going through financial transitions.... well...it sucks! It's so difficult to figure everything out again with what bills get paid when, and which things can be paid next week... oy vey... I just can't wait for it all to even out.
Only time will heal my "bacon"
♥
Mama needs a new pair of shoes. For reals... I have been wearing an old pair of black flats everyday and my feet are aching! I fell in love with this pair at Macys a few weeks ago, but I haven't been able to persuade myself to purchase them just yet... I didn't even know they were Coach until I looked at the price tag! They fit like a dream and have a rubber sole which will be nice on hospital floors. I may work in hospitals, but I will not be wearing Crocs.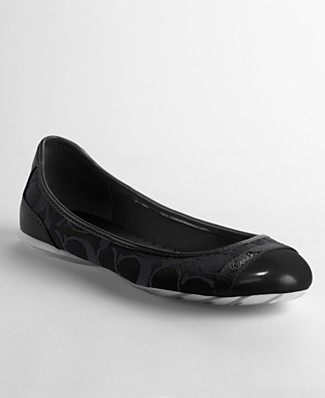 Super cute, right!?

♥
I have been cutting my calories while i'm out of town and trying to make healthier choices. It's so easy to gain weight when traveling because you can't cook your own meals. Yesterday I had a massive pasta craving so I got Applebee's car-side to go and I've only eaten 1/3 of my meal each day at dinnertime. Portion sizes are always way to big from restaurants!
However, my hotel has fresh baked cookies in theroom each day when you come back and I think mine might be calling me!
I think I might have to treat myself... i've been good!
♥
I can't fall asleep anymore without reading. I absolutely love falling asleep to a good book... my only problem is putting the book down! It's always a battle, and I often end up turning the light back on and keep on reading! I highly recommend the Stephanie Plum series by Janet Evanovich! Of the 16 books, i'm almost done!
Katherine Heigl is playing her in the film! I was against her casting at first...but now I think I might like it!
♥
I freaking LOVE the $.89 bean and cheese burrito from Taco Bell! My sister and I have loved them since we were little kids, and no one else makes a bean and cheese burrito better! They pack 300 calories, but when I get a craving for one there is nothing else that will work for me!
mmmmmm mmmm good...
♥
Pretty Little Liars left me freaking out last night! I almost cried out loud when Caleb walked outside and it was revealed that he had ulterior motives! I really like him and Hannah together so I hope they work out! I really do not like this new side of him.... and POSSIBLE SPOILER ALERT... I think that Jenna isn't really blind and has been faking it....
Well, i'm off. I have some paperwork to file, and I need to stretch a bit to loosen up my muscles. Much Love ya'll!
♥